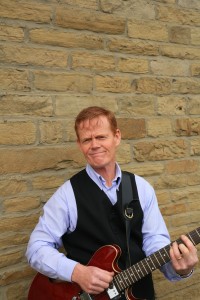 Adrian is a singer-songwriter from Bradford, West Yorkshire with a desire to spread the name of Jesus in both song and Word. He is willing to come to churches and groups to share his love for God and for God's Word.
Adrian's passion is evangelism: to see people come to know Jesus. He also longs to see people established and growing in their faith.
Adrian believes that God's Word is true and sufficient and is committed to ensuring his songs are biblical. He feels that setting God's truth to music is an effective way of delivering it directly into people's hearts. His hope is that they will be challenged to take up God's Word for themselves.
He senses that God is leading him into this ministry and so is making himself available to churches to be used in this way. Adrian is able to provide a complete programme or is happy to come along and support your event.
Adrian fellowships at Sunbridge Road Mission, Bradford, where he is evangelism deacon.
To book Adrian please see the Bookings & Contact page.